Rediff do you know how important buying a domain name is?
I have a dozen of domain names which I bought from godaddy. All of them have been easy and clean transactions. But this time I wanted a .in domain for filmcamp which is not sold by godaddy. I thought either sify or rediff will be good. I settled for rediff as it was much cheaper. I happily paid Rs.640 and went to sleep after I got a mail that the transaction is in progress.
In the morning I was eager to map it to my hosting service. I tried logging into to rediff to see if I can access the domain records. There was no clue! Then saw the order it showed "Delivery Status = Pending". I was not sure what it meant, All I bought was a domain name. I did a whois search to see that it showed nothing. I was lucky. I went to Name.Com and bought the filmcamp.in domain again. Can you imagine buying a domain second time? If they can't handle a domain purchase properly how will they handle business emails? I feel sad for them. God save their business customers. BTW Name.com was cheaper than Rediff and I could use paypal.
Then I thought may be rediff will send my money back in a day or two. But it didn't happen. Then I became busy and didnt think about my 640 rupees. Today I logged into rediff to see the status. Here it is.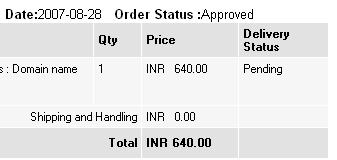 They still think they can get the domain for me. Idiots. I sent a mail today to customer service. (They don't have a toll free number. They just have one land line number of std code 022.) Lets see what happens.
But one thing for sure I am not going to buy anything from Rediff. It looks like Sify is no better than Rediff.