Bangalore – BBMP 2010 election results are out
BJP is the clear winner of 2010 BBMP elections. I expected it as BJP is the ruling party here in Karnataka. I should have thought about presenting results in a better way. But then it struck me only in the late noon. I could only create only a small mashup of election results on Google maps.
I got only couple of hours in the evening to work on it. Even though my colleagues [Uthara, Vandana, Anamika, Asim and IJ GIS interns, Love you guys.] helped me in putting up the result in JSON format. It's not complete yet. I will keep updating it until its complete. [I am using dropbox, so I just have to update the data on my computer and it gets updated on the site. Kewl++]. I can't guarantee for the sanity of the data. But go ahead and use it in your own mashup. Try give the credit if possible.
Please go have a look and I think it gives all the information you need, Let me know what do you think.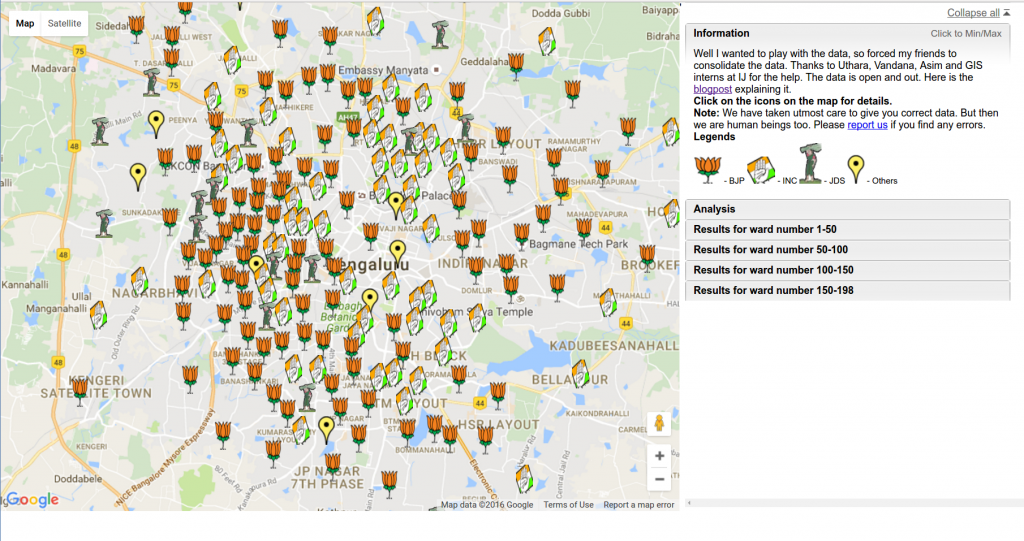 - BBMP 2010 Elections results on the map
- BBMP 2010 Elections results in html, CSV ot TXT, JSON format.
Congrats and all the best to BJP. I hope they will work towards better Bangalore :)