Why Android is my platform of choice
I never developed for mobile platform. I have tried a bit of J2ME but never got hang of it. When iPhone got in, I was so exited to develop for it. But then it had a lot of entry barriers. I never got a start there. Then came Android, but then I was never curious enough to try out SDK. Its only after using Nexus One that I want to develop applications for Android.
1. Android has matured
I have been using Nexus One for quite sometime now. Two days back my phone OS got upgraded to Froyo (Android 2.2). Its become so usable, friendly and stable now. I believe Android has matured enough for me to consider it as a serious development platform.
2. Android can grow in India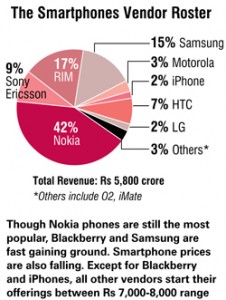 If I consider Indian smart phone market, Nokia (42%) leads followed by RIM(17%), Samsung(15%), SE(9%), HTC(7%), Motorola(3%). Except for Nokia and RIM, rest are betting heavily on Android. The number of android smart phones released this year shows how popular the OS is. According to my prediction by next year android for sure will be second largest OS in India. Symbian will of course will lead for few more years.
3. No new languages
I don't have to learn a new language. I know Java. I am also very comfortable using Eclipse platform.
4. SDK is available for my platform i.e Linux (and for windows too)
5. Easy private distribution
Application distribution is decentralized. If I write an application for private (like inside an enterprise) use only then I don't have to go through a third-party. My users just need to enable menu-> settings-> applications-> unknown sources. They can install any apk files.
6. I can sell on multiple markets or sell directly
I don't have to go through Google Android Market. There are many other options available or I can sell it on my own website.
Of course there are many issues that I have faced as an Indian developer. But then future looks very bright. My "hello world" app is ready for testing...