Stage-1: From comfort of home to Kullu
I don't now how we came up with this plan. But I guess its one of those *30year* beer celebration sessions, I pitched a plan to travel by Himsagar Express, from Kanyakumari to Kashmir. Nothing but just train travel and then return back. For a friend of mine Sandeep that sounded weird. He pitched why not carry bikes along in train and ride it back to Bangalore. To my surprise all of us agreed. Next day all four confirmed too :)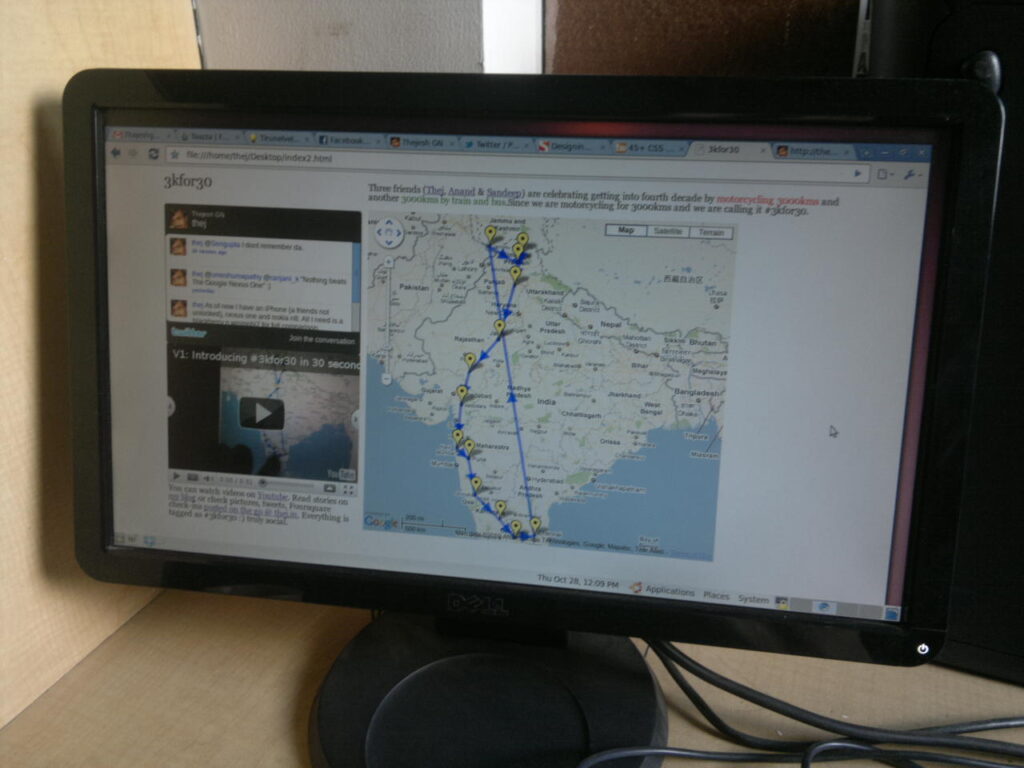 Next few days were hard-core travel discussions at Alliance Francaise with lots and lots of black coffee. At last with Anand's help we had a new destination Rohtang Pass and we will end our ride in Bangalore. I named the ride as #3kfor30.
Soon booked rail tickets, shipped bikes through a shipping company, got biking gears etc. I was still in shock. I couldn't believe what was happening. I thought it was a dream. It can't be so easy. But then reality hit me when the ride was just a week away. I had signed up my 125cc Yamaha to do 3000kms. I have never ridden it in mountains or more than 1000kms in one trip. And the biggest problem was I have not ridden a motorcycle in last six months!


Last few days went by questioning myself. But then there were friends with me so I was kind of confident on the last day even though my ticket was still unconfirmed. I had made up my mind to board train at any cost. A group friends drove along with us to Chittoor. They looked worried for some reason.


Train was late by a few hours. We didn't face any problems in converting ticket. We were ready for three days of fun on Himsagar Express. It was raining all over Andhra Pradesh (Signs?? rain followed us every where).


I wasnt under prepared in terms of gadget. We watched and discussed movies. Listened to audio books, podcasts and read some real books too.


Ate variety of sweets. Made plans to meet friends at railway stations.


Talked to strangers. Watched strangers. Roamed around the stations in midnight.


Took pictures of ourselves. Took pictures of others.


And slept.


Soon we were in a dilemma. Should we go till Jammu Tavi or should we get down at Pathancoat. We decided to get down at Pathancoat and catch a train to Mandi.


We got down at Chakki Bank and caught an auto to Phatancoat. At Phatancoat we scrapped our idea of catching train and took a taxi to Mandi.


That night we reached Mandi. Next day we were supposed to reach Manali but then to our luck bikes had not reached yet. It spoilt our plan of leaving mandi early morning. I was happy to see my bike at around 1pm. It didn't last long as I noticed damage to petrol tank.


Next few hours were spent in cleaning and starting bikes, Lesson no 1: check petrol :)
For next few hours we just rode. We didn't take much pictures. We wanted to reach Manali before dark. Even though the roads were good, it wasnt easy for us. It had too many blind spots, it was beautiful and it was our first day. We could only manage an average of 35kmph.


We reached Kullu by seven. Decided to call it a day and slept in Kullu.


We were already behind our schedule by a day. We couldn't afford to change the plan. But then you know how my friends think. We changed the plan again...thats when Manikaran came into picture.