Answer Bangalore Quiz and win RangDe coupon
Actually this was meant for my twitter followers, But now its open to all my readers. I have Rs. 500 RangDe social lending coupon. Whoever answers this Bangalore quiz (easy) earliest with maximum number of correct answers will get this coupon. Using which you can lend somebody on RangDe. You will get the money + 2% interest once they pay back the loan and of course you will get some karma points.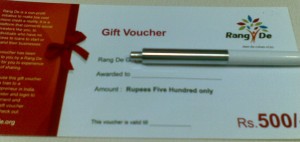 Quiz:
Whats earlier version of M1A2 called? Ans:- Bangalore Torpedo
Is there a Gul Mohar Marg in Bangalore? Ans:- Yes. Inside IISc
Where in Bangalore you will find 3000 million year old rock ? Ans:- Inside lalbagh, the rock on which Kempegowda tower is built.
Which area of Bangalore first got electricity? Ans:- Cantonment
How much did Govt spend to construct Vidhana Soudha? Ans:- Rs 1.75 crore.
From where did the granite used to construct Vidhana Soudha came from? Ans:- Mostly from Mallasandra and Hessaraghatta
Before Independence Gandhi was asked to take rest in Bangalore, Where was it exactly? Ans:- Okay. It was both Kumara krupa road and Nandhi hills. I was expecting Nandhi Hills.
Go ahead answer them as comments. May be I will close it at 7pm?? closed.
Note: NO, this is not sponsored by RangDe. This one is out of my EB adsense money :)
Results: Raghava got it right second time. Congratulations. I will send a mail. Manoj and Fagun were very near. BTW where is that  city market building? Next time I will hide answers until I close the quiz that should make it more interesting.