From an IT Engineer to HomePlanGuru
This is one of the case where the person tried his hand in DIY project and made it his job after wards. Viru wanted to re-plan his fathers house, which he did as a DIY project, but then he thought he can do it for others too. Thats how HomePlanGuru started. Go ahead and read the interview I did with this outfoscion.
1. How come you came with the idea of HomePlanGuru?
HomePlanGuru is now HomePlanGuru.com (since I'm doing it online completely & that is how I've registered my company name also).
When I was in Infosys, I renovated my father's house and constructed few new rooms. Since I was very good in Engineering Drawing, I used that trait to plan every inch of my my house. I was inspired by US buildings (when I worked there) and Infosys' building quality. I used the same concept for my house. After building it, I realized that to build such a good quality house, it is not that expensive and by proper planning, we could get almost all the functional features that are needed for the house. Since the Indian Customers are not aware of many things about quality, I thought of sharing my experience with them through HomePlanGuru.com and make Indian homes on par with developed countries homes.
2. Are you an architect/civil engineer?
Fortunately, NO. (Had it been yes, then the concept of HomePlanGuru.com wouldn't have come)
3. Did you plan your own house? Did HomePlanGuru came out of it?
Yes!
4. How do you use your past experience in your present work?
My IT Knowledge & experience helps me a lot in my venture. This is how it is:
I use IT processes for everything starting from 'Requirements gathering'.
I use technology (free softwares like OpenOffice, Google Sketchup, etc) for planning and Email & Online Chat for communication.
I developed my own website which wouldn't have been possible had I not been in IT.
I'm in the process of developing a product for Builders & Customers for which I'm using my IT skills.
5. Indians or at least the middle class doesn't spend much on planning the house, how do you sell yourself to them?
My charges are highly affordable and are also transparent (i.e. all our charges are available in www.HomePlanGuru.com/services.php ). For a 2D floor plan (Basic), I charge just Re.1/- per sq.ft. For 3D Plan (Basic), I charge just Rs.3/- per sq.ft.
Initially, I used to charge Rs.20/- per sq.ft for all the plans and it was a bit expensive for middle class. Now I've split that into these various 'Basic' plans so that if people want to do just 2D & 3D, they can pay just Rs.4/- (= Re1 for 2D + Rs.3 for 3D) per sq.ft. Thus it is highly affordable.
It is tough to sell a new concept to any customer. But by showing them the benefits of planning and making it highly affordable, I'm able to sell my services.
6. How are you different from other architects/civil engineers?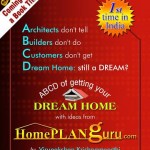 Many people ask the same question and for the same reason I've given the title of a book that I'm preparing now as "Architects don't tell; Builders don't do; Customers don't get and Dream Home: still a Dream?" (see attached image for full title of the book). It will have a detailed answer to this question.
To make it short, HomePlanGuru.com provides Usability & Functional plans from a Customer perspective which (to my knowledge) is not provided by Architects / Civil Engineers. They provide plans that are 'technical' and 'aesthetic' in nature which is mostly useful for the builder and not for the customer (but for the aesthetic plan).
If your next question is "What are Usability & Functional Plans?", then you have to read all the FAQs in our website (http://www.homeplanguru.com/faq.php) or wait for the book to be released. Again to be short, they are the plans that define usable and functional aspects of a home which is much more important than the aesthetic aspect of the home.
7. What do you want suggest to other starters?
I'm not that great to suggest. But this is what I think for myself:
You should be extremely passionate about what you do.
You should be first convinced about the fact that you are adding value to your customer through your product/service.
You should first get your family support (especially from your spouse) if you are a first generation entrepreneur.
Before you quit your regular day job, you should make yourself debt free and have enough savings to face any adversity in your life.
The most important one that gives me energy is: "Never worry about what others will think about you if you fail. You are better than other people who never tried anything of their own. It is not the end result, but the journey that matters a lot not only in entrepreneurship but also in our life"