TEDx is not about talks
Before it becomes a controversy let me rephrase it. TEDx is not just about talks. Sure, it is the place where you can hear best of the people. But TEDx is also about people who have ideas.  This way TEDx is not very different from TED.



'Visual poetry' was the theme for this event. Though it is great theme to have, I felt that it's difficult to get the experts to speak on such a subject. The fact that they were able to great set of speakers with in such a short time was quite commendable.
TEDxBLR opened with a great dance performance from Richard and his friend. Although the stage was small, their dance was so awesome and graceful.
I am geek. I love to know how each machine work. The talk by Dr Uday Kumar Maiyya, the Oncologist, who treats cancer using super cool xray machines, was superb. His enthusiasm when he spoke about each gadget was viral.
These two performances were very emotional; Venkatram's violin rendition and Lakshmi Pratury's talk on 'Billionaire of moments'.
Venkatram displayed how a change in single note can change the mood. Even though I don't know the nuances of Carnatic music, I could appreciate his performance.   Lakshmi Pratury ( Director TED India) ended the occasion by an excellent talk about 'Billionaire of moments', (slight explanation on what the title means).

The actual event for me began after the talks. I spent couple of hours talking to all other attendees.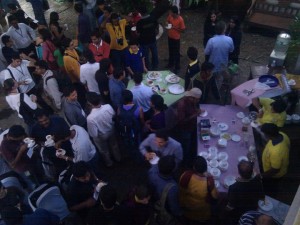 The conversations ranged from very geekish subjects such as arduino to future of TEDx events in Bangalore. In between I had a couple of philosophical conversations which got me into thinking. I spent enough time thinking about the same while driving back to eCity. Of course Nexus one should have had a bigger battery.