Open DataCamp Bangalore 2013
The second Open DataCamp in Bangalore was earlier this month. This one was much different from the first one. I was very happy and tired at the same time. Now that I am back from a very good vacation. Its time to sit back and reflect upon #odcblr2013.
First of all, to all the participants. Thank you. You guys rock. For the rest, I am sorry guys you missed great conversations and hopefully you will be around next time.
ODCBLR2013 was made possible due to the generosity of Google, India Water Portal, Akshara Foundation, HasGeek and DataMeet volunteers.

Finding a venue was difficult this time. We couldn't use Google since their well-known canteen is under reconstruction. At the end Dharmaram college worked well, except for the internet part which was a little sporadic. Hopefully we will have a better place next year. We should probably go back to corporate world. It makes it easy setup things like internet, food, AV etc
Even though we started planning early, both Nisha and myself have full-time jobs (more than full time actually), it was not easy running around to get the things done. So in the year 2014 we will have to start very early. Say at the least 5 months early. Also try to work with other groups like BarCamp Bangalore, so that we don't clash with them.


Talks and Workshops were awesome. We will try to continue that format unless the feedback from the participants is completely opposite. And it's not easy to organize a hackathon. We will have to plan better for it to work. I might attend more hackathons just to learn to organize one.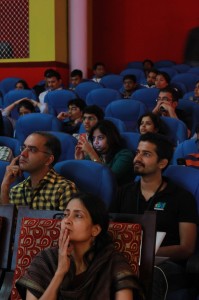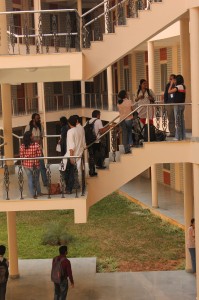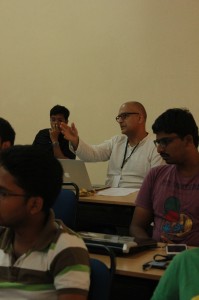 Volunteers were awesome. All kinds of them, some of them who like DataCamp and wanted to volunteer, and the rest who just liked us and volunteered to help us. Thanks to all of you. We couldn't have done with out you guys.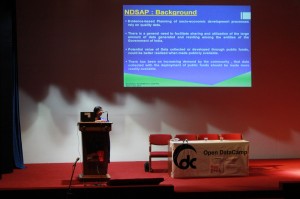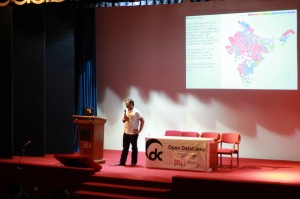 Participants this year were equally good. There were so many interesting conversations. So many ideas. Which is what I look forward in an event. By that standards we are growing and doing well. Now looking forward to #odcblr2014. In the meantime join the discussion at DataMeet.
Note: Myself and Nisha are processing all the videos. It should be out in couple of weeks. All the pictures are available online. They are under Creative Commons license. Please attribute Meera Sankar if you end up using.