I am Liking My Pebble Watch
I got to know about Pebble when it became a super hit on Kickstarter. I don't think I was on kickstarter then. It looked great on the paper but then investing $99 without knowing the outcome seemed like an expensive affair for me. But then I have followed them ever since. They have got really positive news since the beginning. Now I know why!
This year when I was looking for a practical smart watch, my requirements were very simple. Pebble was a perfect match.
Fast and Reliable - Runs FreeRTOS and really fast.
Usable - No touch screen. I don't miss it. UI is simple, black & white slides based, Screen is big and clear, Hardware buttons work really well. Specially when you are involved in something else, which is almost all the time.
Good Battery life - 5 days minimum and charges very quickly
Water Proof - 5ATM so Rains, Shower, Swim etc is easy
Adventure friendly - Music, Running trackers, GPS/Compass integration works
Fits my wrist. comfortable and looks decent
Hackable
Works with Android - I have listed the apps below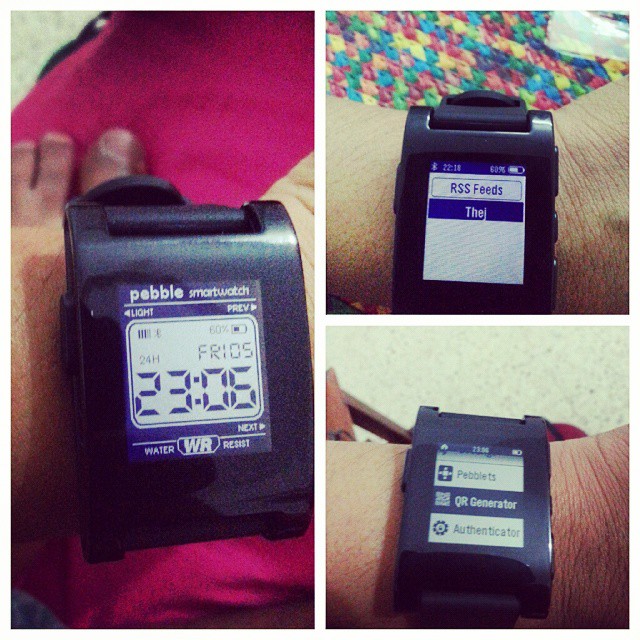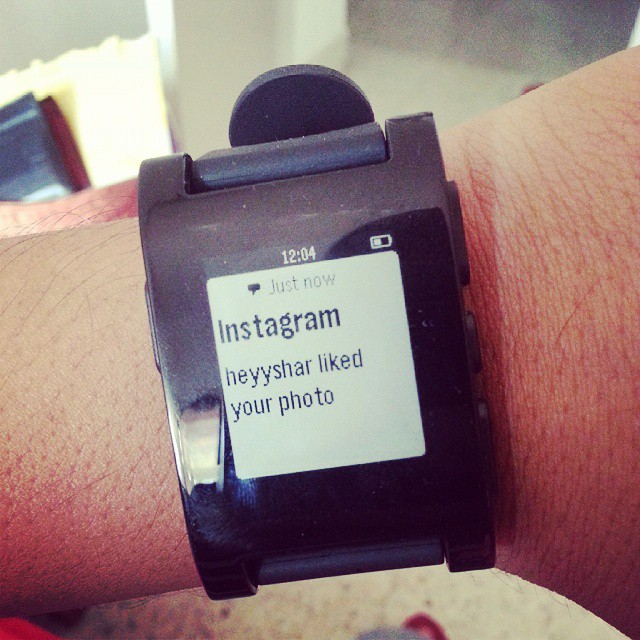 Also Pebble was reduced $99 from its $125 launch price. So I got it. I really like watches. I have quite a few of them. But I never used to wear one on a regular day. Now I do. I have been wearing pebble since the day I got. I wear it almost all the time. I am very happy with it. If you are looking for an affordable, hackable smart watch, pebble is a good choice.
Below I have listed some of the apps that makes pebble really useful. If you think I should try any other app, please comment. I am ready to experiment.
Independent Pebble Apps - That I use and love
7-Min Workout Personal guide through the high-intensity 7 minute workout as featured in the New York Times.
Google Authenticator two-factor authentication codes right from your Pebble! Perfect for use with the most popular two-factor authentication systems, including GMail, Dropbox, LastPass, Amazon Web Services, and many more. There are quite a few other options here, like pebble-authenticator, PebbleAuth, pTOTP. Last two have the source code availabe on GitHub.
Pebblets: Multi Function Tool - A collection of common tools for your Pebble Smartwatch all contained within one app.Available on the Pebble App Store.
GoPro by Pebble (Free): Control your GoPro HERO from your watch.
Morpheuz (Free): A sleep tracking app, that also has a Smart Alarm, to try and wake you at just the right time, plus a Power Nap function.
Music control app, Alarms are built into it. I use the same.
Android Apps that I use with Pebble and love
Pushover makes it easy to get real-time notifications on your Android device (and hence Pebble), iPhone, iPad, and Desktop. Specially useful if you connect it to IFFT.
AeroTracker Pro is a free watch app for Pebble that lets you track your movements using your Android phones GPS. AeroTrackerPro has full Pebble support. You can view everything you need on your wrist. Time, average or current speed/pace, split time, split speed/pace, elevation or heart rate. Everything is configurable from the Pebble app, even when you're already in the middle of your run.
Other Apps I am planning to explore