Linked List : Three FOSS Apps for Reading RSS Feeds
An RSS feed is a standardized format to get an update from a website or web service. There are a few feed formats (RSS, Atom, JSONFeed) of which RSS is the most popular one. I use RSS feed on daily basis to read blogs and as well to get updates from my own services. Here are the three FOSS Apps that I use.
Feeder For Android
Feeder is a fully free/libre feed reader. It supports all common feed formats, including JSONFeed. It doesn't track you. It doesn't require any setup. It doesn't even need you to create an account! Just setup your feeds, or import them from your old reader via OPML, then get on with syncing and reading.

Gitlab/Feeder
It's available on F-Droid and Play store. I use it everyday. Since all my server updates are JSONFeeds. It's probably the most viewed app on my phone.
Fraidycat
Fraidycat is a browser extension for Firefox or Chrome - or an Electron app - that can be used to follow folks on a variety of platforms. But rather than showing you a traditional 'inbox' or 'feed' view of all the incoming posts - Fraidycat braces itself against this unbridled firehose! - you are shown an overview of who is active and a brief summary of their activity.

Fraidycat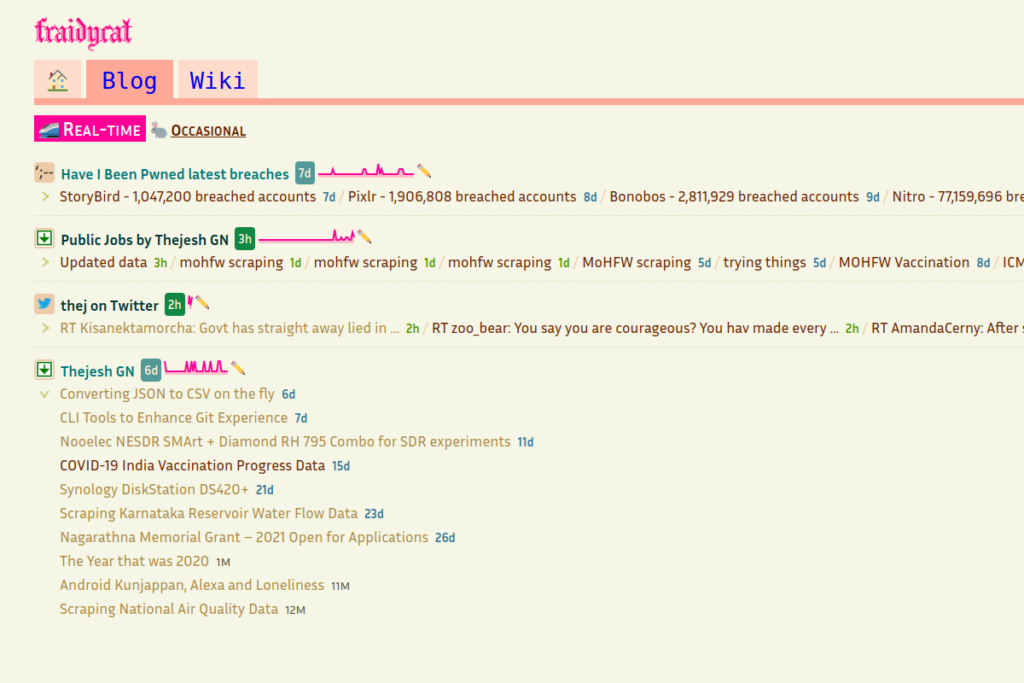 I like that it can subscribe to feeds and as well some sites that doesn't have feeds like Twitter or public TiddlyWiki. It works like
Liferea
Liferea is a web feed reader/news aggregator that brings together all of the content from your favorite subscriptions into a simple interface that makes it easy to organize and browse feeds. Its GUI is similar to a desktop mail/news client, with an embedded web browser.

Liferea
This is for hardcore reading. If you are into researching or learning something. Or just a voracious reader. This one is for you. This one comes with great features. Like you can subscribe to remote OPML files, share by your friend. It can also format the feeds using any script, so you can covert the formats so they can be subscribed. Finally all the data is inside an SQLite file, if you want to explore.
---