Linked List: Three Offline Capable Apps for Emergency Situations
I love traveling and trekking 1. At least when riding or driving across India, you would reach a place where you don't have an internet connection, but you want to figure something out. For example, one time, I thought a spider bit me, and my arm was swollen. We were trying to figure first aid in a remote place with not much connectivity.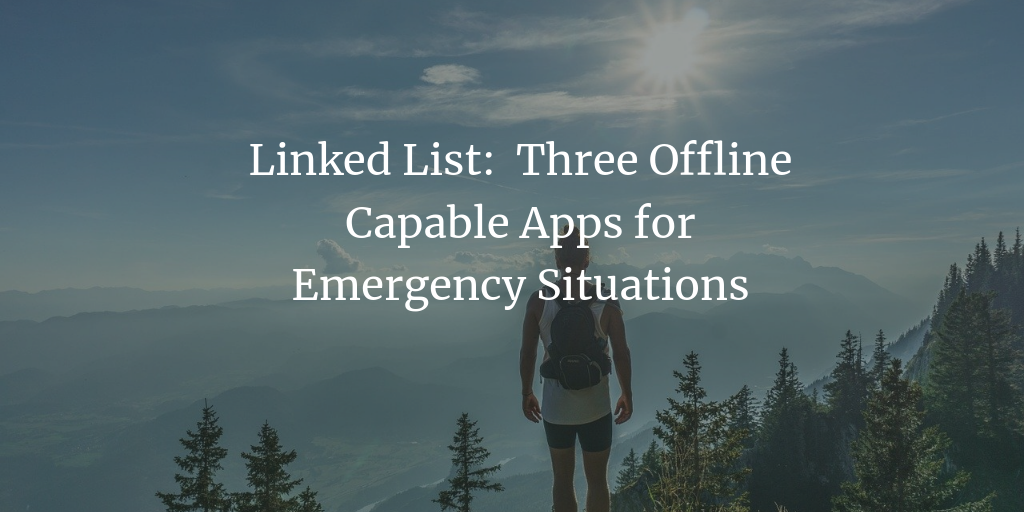 For such situations, I do have some apps that have come in handy. So a list of them is my linked list this week.
Survival Manual
This is a survival manual/guide based on the public domain US Army Survival Field Manual FM 3-05.70 (FM 21-76). It is fully functional offline, which is important in the case of a catastrophe.
It's an Open Source Android application available on FDroid and PlayStore. The content is curated on a Wiki. It's been very useful even in urban environments.
Trail Sense
Use your Android phone's sensors to assist with wilderness treks or survival situations. Designed for entirely offline use.
It's a FOSS app with lots of features combined into a single app. It feels like a Swiss Army knife of small tools. It has Compass navigation, Astronomy, weather, measurement scale, small apps to measure cliff, etc. It's available on FDroid and Playstore.
Indian Red Cross First Aid
This Indian Red Cross Society First Aid application provides you first aid guidelines to handle day-to-day emergencies. The information included is updated using the latest international guidelines for first aid (2015-2016). All instructions are adapted to the local Indian context by a team of Indian medical and first aid experts.The content is based on the evidence based first guidelines included in the reference manual Indian First Aid Guidelines (IFAG) and the Indian First Aid Manual (IFAM) (2016). The application and the content will be frequently updated and its functionality expanded.
It has easy-to-follow steps in case of emergency. The App doesn't replace the real training but helps you in situations. The Indian Red Cross Society and St John Ambulance of India provide first aid courses all over India. So if you are interested, that's probably the best way to go about it. That said, this App is handy. Available on PlayStore.
Well, now we are in COVID19 times. I have not gotten out unless required ↩