Open Data : India Oxygen Shortage Deaths
You don't need an introduction. The whole world knows that our hospitals have a shortage of Oxygen. In some cases, unfortunately, this has lead to deaths in Hospitals. We want to record these deaths so we don't forget them.
We (Volunteers from DataMeet and Road Scholarz) are recording‌ ‌deaths‌ ‌due‌ ‌to‌ ‌the‌ ‌lack‌ ‌of Oxygen, shortage of Oxygen, or denial of ‌Oxygen‌ ‌in‌ ‌hospitals‌ ‌during‌ ‌the‌ ‌second‌ ‌wave‌ ‌of‌ ‌the‌ ‌Covid-19‌ ‌pandemic‌ ‌in‌ ‌India‌. The‌ ‌deaths‌ ‌recorded‌ ‌are‌ ‌based‌ ‌on‌ ‌reports‌ ‌from‌ ‌newspapers‌ ‌and‌ ‌news‌ ‌media‌ ‌in‌ ‌English‌ ‌and‌ ‌regional‌ ‌languages, social media, and‌ ‌networks‌ ‌of‌ ‌volunteers‌ ‌working‌ ‌on‌ ‌the‌ ‌ground.‌ ‌We have been tracking‌ ‌these sources‌, verifying‌ ‌details,‌ ‌checking‌ ‌for‌ ‌duplication,‌ and extracting the necessary information from these reports.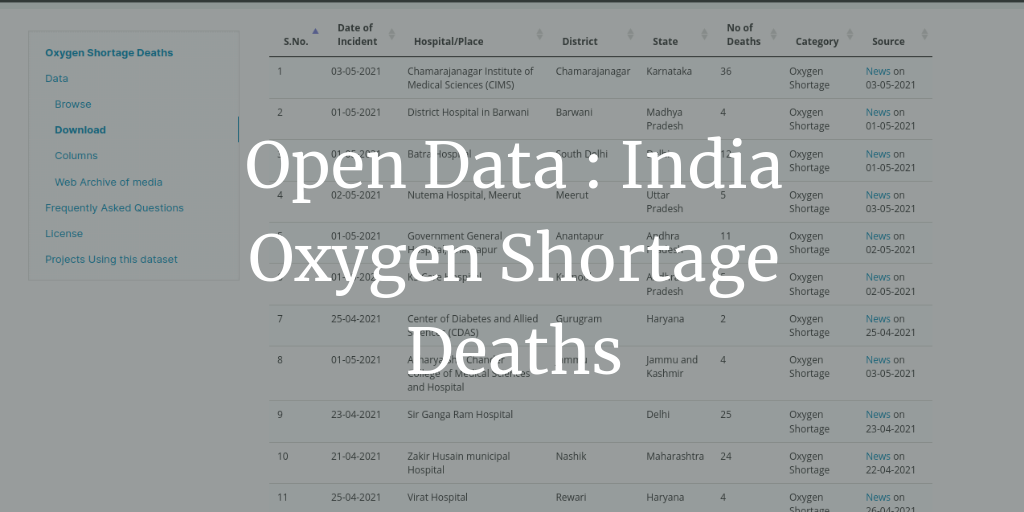 The process is somewhat similar to how we recorded the Lock-down Deaths (Non Virus Deaths). It's a tedious and time-consuming process. You can help by sending any news item that you came across to the group using the form.
The data, as usual, is under CCBYSA. Here is the project URL.
https://projects.datameet.org/covid19/oxygen_shortage_deaths/