Synology DiskStation DS420+
For a long time, I wanted to set up a NAS at home. A lot of my workflows include local folders between computers on my network. For a while, I entertained the idea of building one myself using my old PC hardware. But I really wanted one on which I won't tinker much1, so it remains stable. Hence buy. It would be my main machine for making continuous local backups and to run some applications.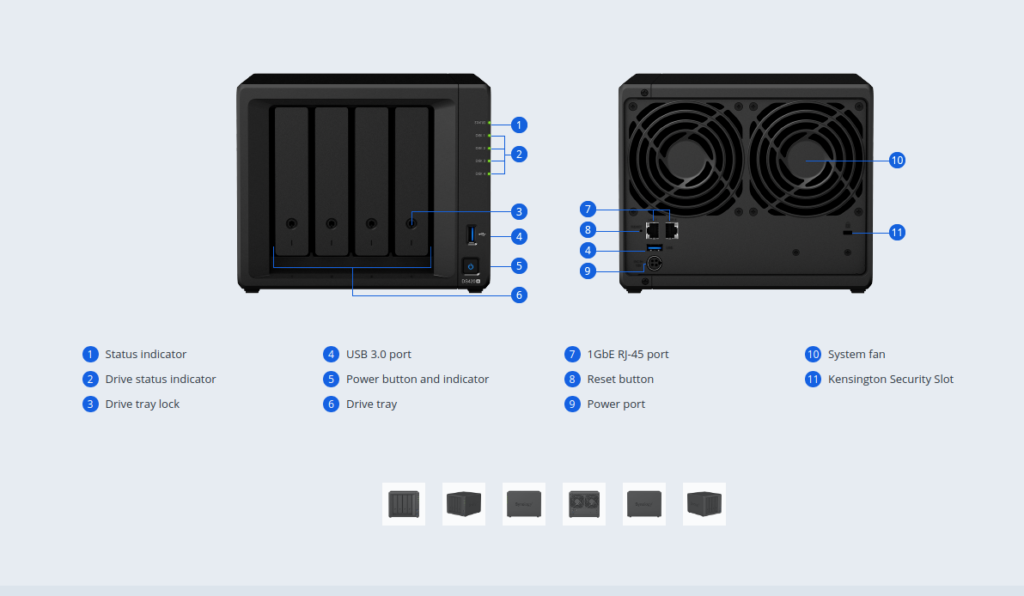 I did quite a bit of research before I settled on a model. I choose DiskStation DS420+, which are for SOHOs. I based my selection on the following parameters.
Hardware
I wanted decent looking hardware that was powerful and fast. I also wanted an option to extend when I required it. So Diskstation DS420+ has Intel Celeron J4025 2-core 2.0 GHz, burst up to 2.9 GHz. Not super powerful, but enough to do the jobs that I want. Since it's dedicated, I can squeeze every cycle out of it. It comes with 2 GB DDR4 RAM. It can take up to 6 GB, which I plan to upgrade sometime in the future based on the performance.

It can take up to 4, 3.5" or 2.5" SATA HDD/SSD hard disks. Currently, I am using two bays with 2TB drives. They are Seagate IronWolf 2 TB NAS Internal Hard Drives. In the future, I plan to use the bigger ones. I don't see the need for more than four drives at this point. Also, disks are hot-swappable. So I can upgrade all four to a bigger size if needed.

Along with these, it can also take two M.2 2280 NVMe SSDs. This adds Cache Acceleration Capability. I am not using any as of now. Suppose I plan to do any read write-intensive jobs. I will use them to increase performance. This is a big option. It comes with 2 USB 3.0 ports. Currently, I am not using it. I have an older 2TB USB hard disk. I might plugin that at some point. But I am not sure.

The weak point is network speed. It has two Gigabit (RJ-45) ports. Together, they can give you 2Gb (link aggregation) worth of throughput, and For NAS of this range, it should have had at least one 10Gb port.
Overall I am quite happy about the hardware.
Software
I wanted something that is easy to use and maintain. Also something that gets regular updates. The Synology comes with DiskStation Manager (DSM). Its quite intuitive and you get a web based access to it. It feels like you are logging into remote desktop computer. Its easy to use.
It also comes with a package manager using which you can install various application. There are quite a few and very useful ones. Some of them come with a partner Android apps too. For example Drive (like google drive), moments (similar to google photoes). So you install the application on the Synology and then install the App on Android. Connect them to work with each other. Both worked flawless.
The other application I installed on DS420+ is docker. This is an UI interface to setup and run docker containers on Synology. Its very useful if you want install something that is not provided as part of Synology packages. The docker application UI is very friendly. Gives easy options to setup network, ports, volumes, system (CPU< RAM) restrictions etc. Of-course there is an option to import and install unofficial Synology packages too. I am not sure who does that when you have docker.
I have a gitea container running on the Synology. I use it as mirror server to mirror all my repos. Indirectly it also works as code backup system.
Homelab
It's part of my homelab. It means it does more than what it is meant for. I plan to use USB ports in creative ways to monitor the APC UPS; it's using power from and some other services. It can also run a lot of software that I was running on the cloud for personal use with docker. It's been a good addition to my Homelab.

I will write more as I find more workflows inside my home network.