EcoFlow River 2 – My Portable Power Station
I wanted a portable but big enough power bank for my car trips and camps. The one that can charge laptops, can run some small power tools and have UPS like functionality. 
I have 1 KWatt Li-850 SW Omega Digital UPS at 17Kgs. It is not exactly portable but still can be carried around in a car if required, but it depends on grid power to charge. Currently, it's working as a regular UPS at my parent's place. I will blog about that in detail some other time; for now, let's return to my search for a portable one. Here is the list of requirements for a portable power source.
Requirements
Portable to be specific under 5 Kg
Long battery life
Multiple ways to charge, at least Grid and 12V input
220V AC output
USB and 12V outputs
Enough to power my laptop twice and my phone twice

60Wh * 2 + 10Wh * 2 = 140 Watt-hours

Reputed brand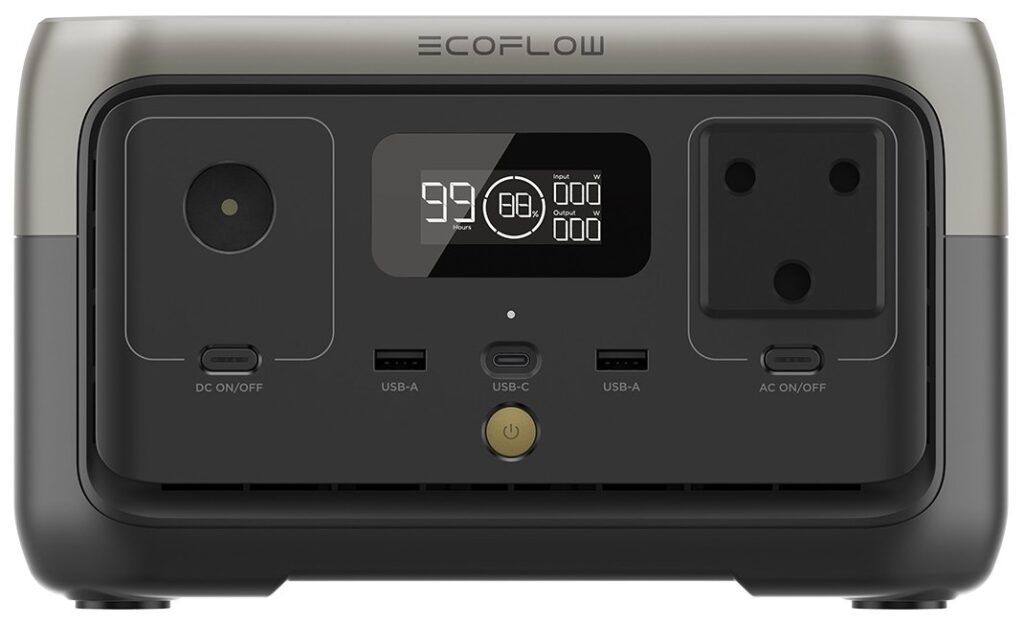 My search led me to EcoFlow River 2, now officially available in India. It differs from the US version in AC output and socket type; otherwise, it looks and feels the same. It satisfied all my requirements but also had features I have come to like a lot. Here is the list I like
General
Model number EFR600. It's sturdy and looks pretty as a tabletop device.
Very portable, 3.5 Kgs, comes with a handle at the back and flat top. Easy to carry, and the flat top helps you keep things like your phone on top of it while charging.
It comes with a one-year general warranty and a five-year battery warranty.
LiFePO4 battery, with almost 3000 cycles promised.
256Wh. I will limit the max charge to 80% and min discharge to 20%. Even then, it has more Watt-hours than I require for now.
Pass through and EPS Auto Switch. EPS has a switchover speed of less than 30ms, for most devices that work as UPS unless you power a sensitive device that needs a 0ms switchover.

Emergency power supply (EPS) - When you connect the grid power to the AC input port of the product through an AC cable, you can power electrical devices through the AC output port (AC power will come from the grid instead of the power station in this situation).In case of a sudden blackout, the product can automatically switch to the battery-powered supply mode within 30ms.
EcoFlow power stations can be used while they are being charged. The units support discharging while connected to an AC outlet , a car charger or a solar panel.

X-Boost- The AC inverter can deliver 600 Watts for a short amount of time. X-boost can be used by power tools that have higher power.
App - It has an App to monitor the battery's state, change the settings, observe the inputs and outputs, etc. It connects to the device over Bluetooth. It can also connect over the internet if you give it the password to your Wi-Fi router. I didn't find that part necessary. Just the Bluetooth part works and works well.
Conversion efficiency is much better if you use the DC voltages. AC inverter has the least efficiency.
Note: I am unsure how clean the DC power output is for sensitive radios. I will have to do some experiments to figure it out.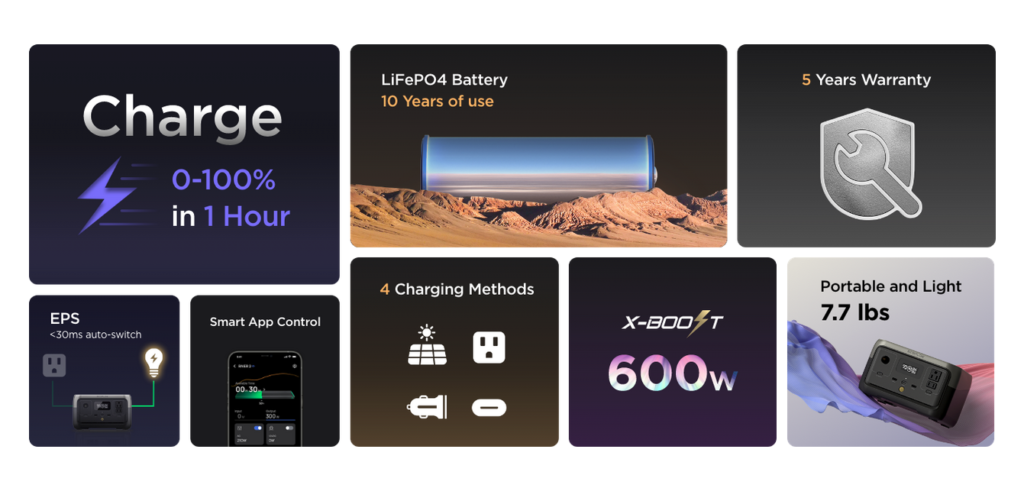 Inputs or Charging
220V to 240V 50-60Hz main power input socket. Charges really fast, under one hour, from 0 to 100%. It comes with a 16A power cable and plug. I got a regular 5A computer cable. A 5A wall socket can power 300 Kw without any issues. And 16A sockets are rare.
12V input XT60 plug. The back panel of the River has an XT60 plug to take DC inputs. It can take 11V-30V, 8 Amps, and a max of 110 Watts.

It comes with a car cigarette charger to XT60 socket cable to charge inside the car.
You can buy/make a solar connector to charge from Solar. A solar panel that generates more 110W and under 30 Open-Circuit Voltage (Voc) should work well. It has in built charge controller.
This also means you can charge it from a variety of 12V DC inputs, say, from another conventional 12V/24V battery.

The USB-C port on the front panel can also be used for charging; it charges at 60 Watts max.
Outputs
230V AC - One 16A size socket for AC output. It can deliver up to 300 Watts at 1.3 Amps. 300 Watts is the total maximum, assuming the other output ports are not being used. It can also deliver 600 Watts for a short time under x-boost. Power tools can use this to kick start. I have a 16A to 5A socket converter. So I can use it with regular devices.
12V DC - One car socket can deliver 100 Watts at 12.6V and 8 Amps.

I have a cigarette lighter socket to a DC barrel jack - DC5521 (2.1 mm x 5.5mm) plug with a center-positive cable. 12V DC5521 jack powers my solder iron, Arduino, Router, etc.
The car cigarette lighter socket to the XT60 socket cable can also be used on the output side. It can power any device that takes a 12V XT60 plug.
Currently I don't have DC5525 converter. But I plan to get XT-60 plug to DC5525 cable.

USB A - Two USB A ports are available. They can deliver 5V at 2.4Amps, 12 Watt max per port.
USB C - The same USB C port works as output, too. It can deliver 5/9/12/15/20V at 3Amps max. I.e., it can deliver 60 Watts at max.
My take
It works much better than I thought and has all my desired features. At INR 27K, it's much more expensive than the other lithium-based battery bank/UPS that I own, but they are not this portable, nor do they have these functionalities. I recommend this to anyone who wants to work from anywhere (aka work remotely), including a car and tent.
---