Embulk for extracting and loading data
I recently had a use case where I had to extract data from one source and load it into another. I was looking for a simple but robust tool that could do this. Since I have been using Digdag for years without any issues, I looked at Embulk from the same team. 
Embulk is a bulk data loader. It helps transfer data between different types of databases, storages, file formats, cloud services, etc.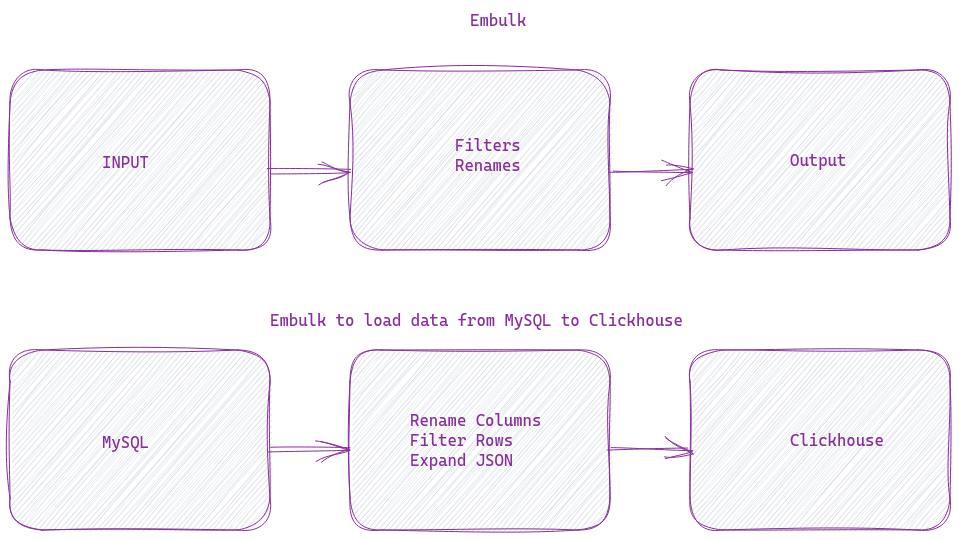 A simple Embulk setup will look like the image shown above. It has inputs ( data source ), filters ( some action on data), and out outputs ( destinations). Various inputs, outputs, and filters are supported using the plugin architecture. Embulk in itself brings them together and runs it. Embulk provides
Combination of input and output from varieties of plugins
Plugins released in Maven and Ruby gem repositories
Automated guess of input file formats
Parallel execution
Transaction support (run everything or fail)
Support for Idempotency (re-runs)
So it was writing a simple YAML configuration file to do this. But later, I configured this Embulk to run on Digdag as a task to make it part of a DAG. I also went further and wrote a python task that dynamically creates Embulk YAML files using Digdag secrets and destroys the YAML file once the workflow is complete. I could have used liquid templates, but I found this more useful. I will write in detail about that later.
It's like a Unix tool. It's simple, robust, and works well with other tools. So if you are looking for a simple tool that can extract and load data, I think Embulk works very well. Give it a try, and let me know.