Road Trips With Dogs
I have been driving around with my pets for some time—short and long. I have driven them around for eight to ten thousand cumulative. Most drives have been to Thrissur. They have been doing well. It took us time to develop a standard process to drive with them.
Of course, all dogs are not the same. It depends on their and your temperament, your abilities to coexist in a small place, age, sickness, etc.
Max mainly traveled in the second row in a small car. He was older and didn't complain. He didn't like very many people or dogs, so it was not easy to visit a break in the middle of the drive and take him out for a walk. But he was happy to be alone in the car for a short time if needed. He also didn't have to share the second row with anyone other than sometimes Anju.
Pathu and Echo had to share the second row in a small car for a while. They are friendly to all humans and to some dogs. They were okay sharing the second row. Echo likes traveling with windows open, but Pathu usually falls sick when the windows are open. She also had traveling sicknesses. She is much better now, but yet she can't travel after eating. Now that we have a bigger car, they have a lot of space for them. They can walk or stand or change places if they want. The best part is the car had wide windows, so Echo is happy now.
Now I have a checklist and a standard process that I follow before starting any long drives. Some of it might be useful to you. Your experiences might vary, do send me your comments and notes.
Car prepping
The preparations depend on the car. In the small car, we usually recline the seats in the back as much as possible. We add suitcases and other bedding between the seat rows to fill the legroom space. That way they get as much space as possible.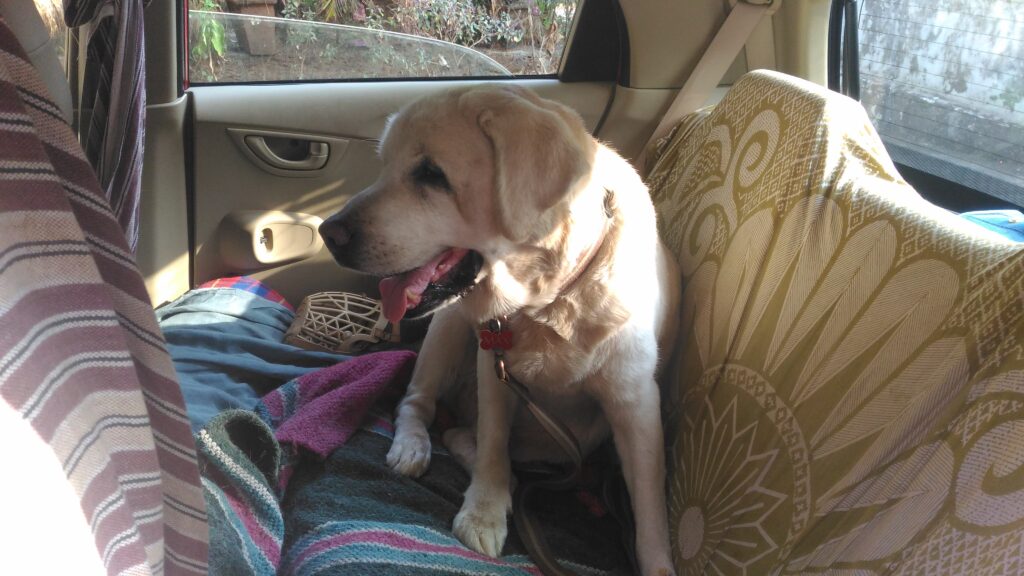 And then, on top of that, we add a back seat car cover for pets. The cover will protect the seats from pets. It also helps pets when you apply quick brakes. Seat cover will also prevent pets from coming to the front row. Having pets in the front row on long drives is usually not a good idea.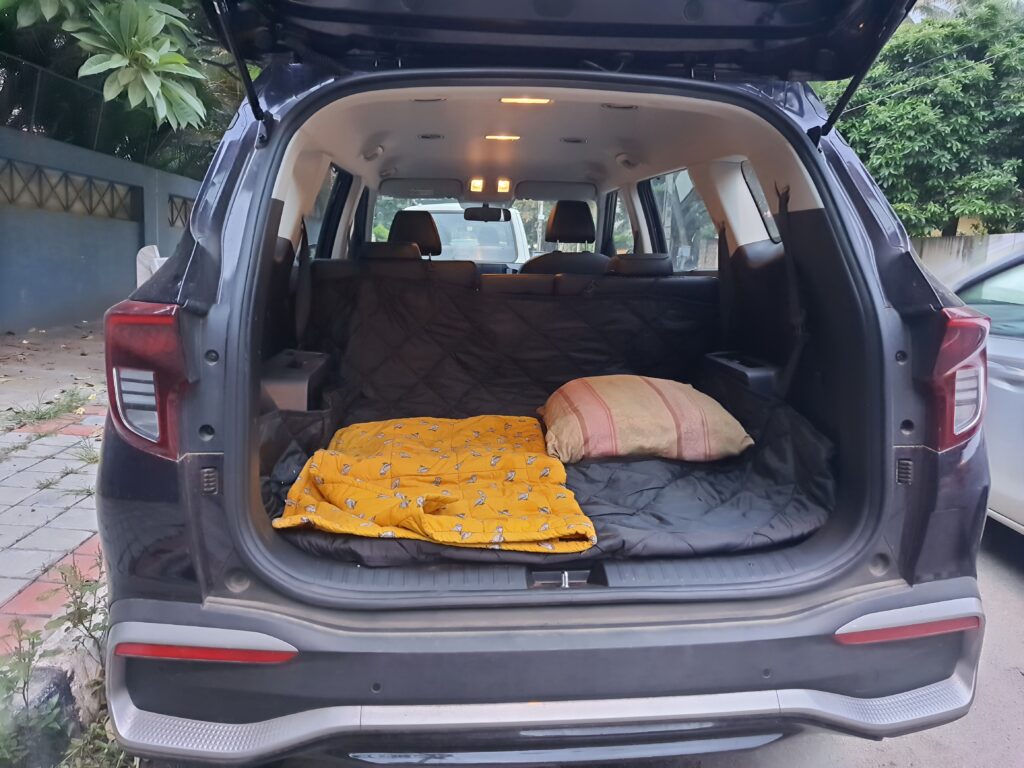 In the bigger car, we have the 3rd row bent forward. It flattens fully. Boot + fully flattened third row offers a lot of space. We have a seat cover to protect this area ( seats) from pets. On top of the cover, we have bedding or mats for them to sleep on. This setup is much more stable, and also they get light from all sides and have a better view of the external world. All our luggage goes to legroom space between the first and second rows. No baggage or moving things are with pets.
If they don't stay in one place or trouble the driver, restraining them inside the vehicle is essential for their and other co-passengers' safety.
Travel Time
We prefer to travel with them in the early mornings or late evenings. This helps them go to sleep easily as there is nothing much to distract them outside, and the vehicle, by default cooler, which is better for all of us. Say you plan to cover 500 km in a day, given Indian highways and other conditions. Your average speed will be around. 60kmph. It would take 8 hours. So if you leave early morning, say 3 AM. You will reach your destination before 11 AM. They would spend half the time sleeping, and you would reach the place just in time (~ roughly ) for a delayed morning meal.
Sleeping or resting
Ideally, we would like them to sleep while traveling. We make it comfortable with bedding, pillows and mats. The same bedding or mats are used at the destination, too, in case we stay at an Airbnb or at a friends place.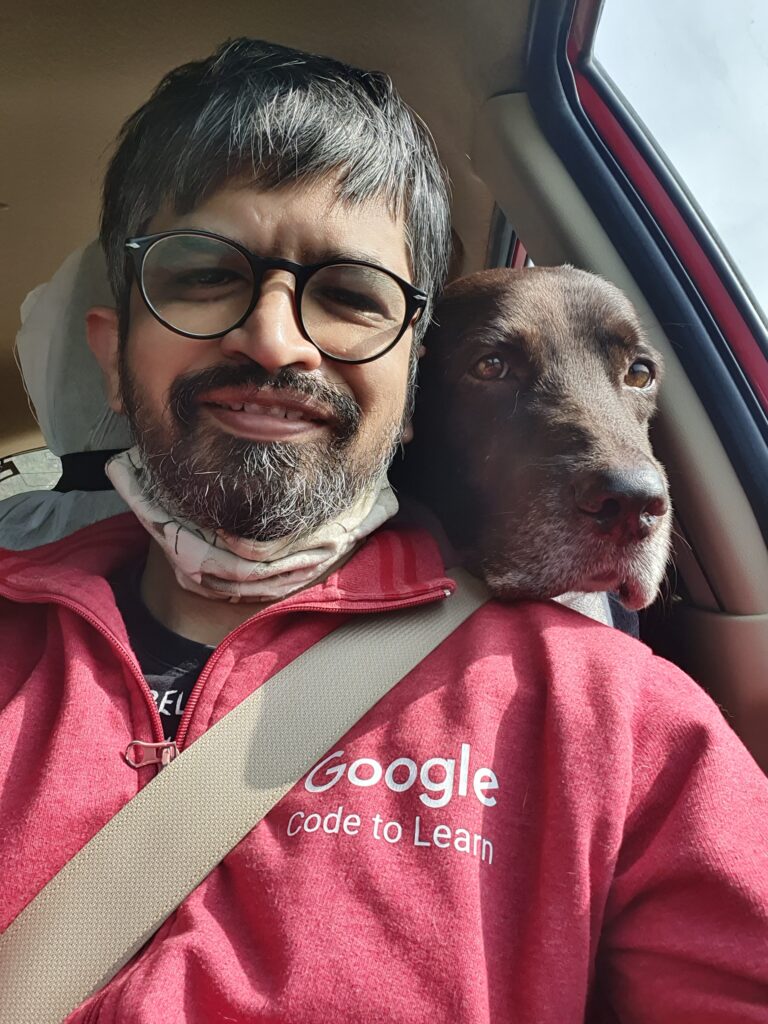 Some dogs get stressed while traveling. Doing smaller drives before you do a long drive might be a good idea. It might be wise to give time to settle down before starting the drive. So spend about 10 minutes in the car before starting to drive. You can add toys, some pillows, old sheets or T-shirts ( smell of home), etc. They usually help them to calm down.
if you still think they are stressed, then speak to Vet.
Food and Water
Pathu has travel sickness; she is much better now in the new car but still feels it. So we don't offer any food while traveling. It works out since both Echo and Pathu are used to two meals a day. We ensure they get a meal at least 5 hours before we start the travel, like the previous night.
We have a water bottle that dogs can drink from. We offer them water many times and as much water as they want. We carry a lot of water in general for both humans and pets.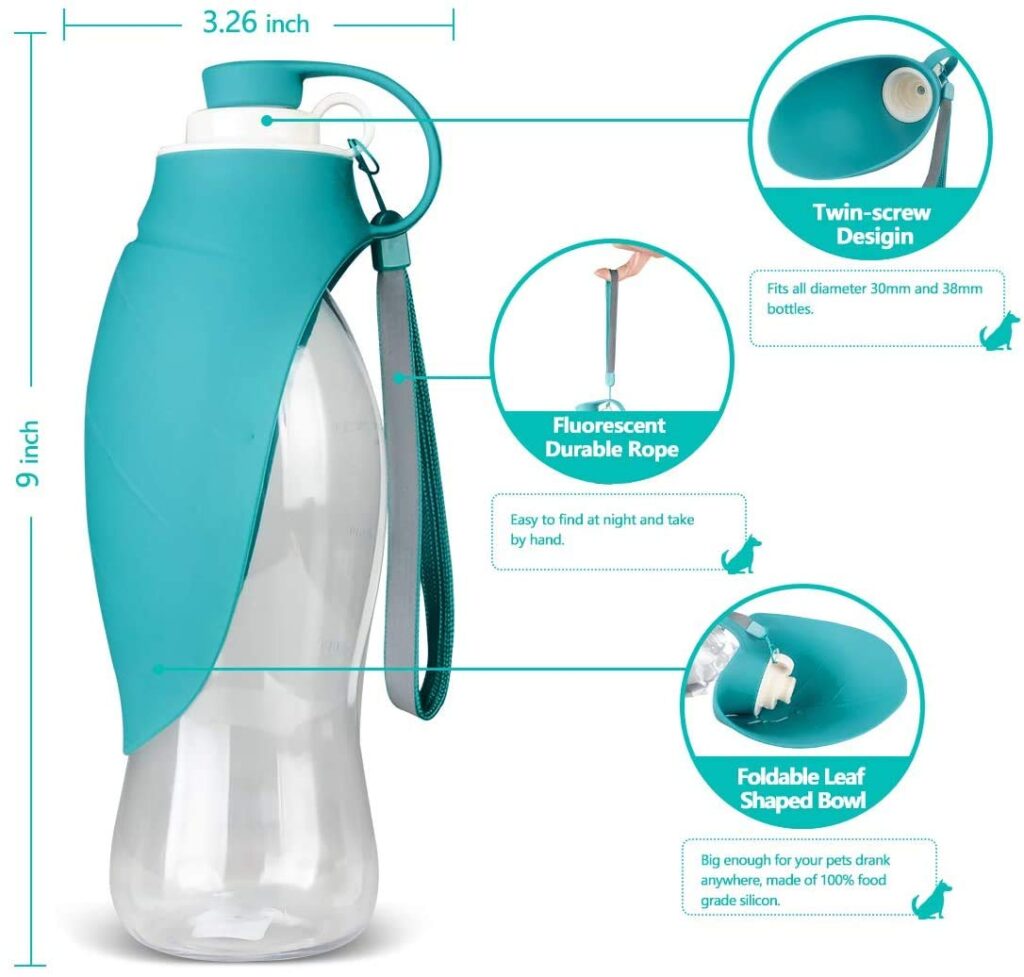 Once we reach the destination, they get to eat. We can carry food for couple of meals and enough treats.
If your dog gets car sick a lot, then speak to the vet. They can prescribe medication to prevent nausea and vomiting.
Windows
I like to keep the windows closed unless we stop or take a break. It's easy to drive on highways with windows closed, and it's safe for everyone. If it adds to your dog's comfort or yours to keep the windows open, make sure the opening is small.
Stops
Older dogs might need some stops to stretch their legs, especially if it's a long drive. I only stop sometimes since we drive very early in the morning. Maybe once in the second part of the drive for water and a short walk. But again depends on the age and pet. I usually prefer stopping outside the towns on long and empty stretches. That way, there are no distractions.
ID and Documentation
Make sure your pets are wearing the ID tag all the time. Please don't remove them even when they are inside the car. You can remove the leash once they are inside the vehicle but don't remove the collar and body harness. Carry all the medical documentation, especially the vaccination documents. For most occasions, a digital copy should be enough.
Micro-chipping is rare in India. So updated ID tags and ensuring your pets always wear them are very important.
First Aid kit or Medication box
Add all the medication required by the pets to the medication box. It could be a smaller box within your larger first aid kit that you should be carrying :)
Things to Pack
Back car seat cover for pets

Cotton colorful one which we use in small car is from pawffles
Black simple and affordable one from Amazon - PAWSOME

A mat or carpet for them to sleep on

Yellow Owl Mat from pawffles
We also hand stitched some big pillows
Also made some mats from old cotton clothes

A water bowl

On the go water bottle from Amazon

A food bowl
Some accessible treats
Food for couple of meals
Lots of water
Pillows or Toys
Dog harness
Collar with ID tags
Paper Towels or Old newspaper
Additional old cloth, like old bed sheets or towels, etc
First Aid Kit
Documents, including Vaccination and others, digital copies, should suffice
Do you travel often with your pets? What did I miss? What else can I do better? One thing I miss is a technical solution for pet tracking. I am currently exploring a few options. I will write when I have more details. Please send me your recommendations.
---